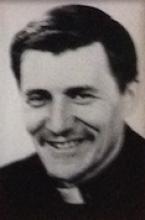 Father Jim Whalen was born in Val d'Or, Quebec, and was ordained in Ottawa in 1972. Since his ordination. Father Jim has worked as assistant pastor or pastor in many Ottawa churches, including St. George's, St. Theresa's, Resurrection and St. Margaret Mary's. He has also been involved in other areas of service to the Church, including acting as chaplain to native people (1972-1989) and serving as Regional Vicar (1984-1989). Father Jim has also been active in the Companions of the Cross.
During Father's first term as pastor at St. John's and St. Brigid's, St. Leonard's Church in Manotick was built and became a mission of St. John the Evangelist.
Father Jim returned to St. John's and St. Brigid's from 1991 to 1992, with the additional responsibility of being pastor of Our Lady of the Visitation in South Gloucester. He is presently pastor of St. Margaret Mary/Ste-Marguerite-Marie in Cumberland.